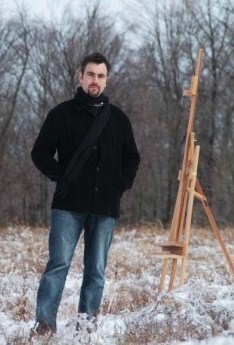 ARTIST



ABOUT
ORIGINALS
CURRENT PROJECTS
LIMITED EDITIONS
EXHIBITIONS
GALLERIES

BIOGRAPHY

Pastel Shades, Milford Sound - from
the 'Deep South' series
Nathanael Provis has always loved beautiful and dramatic scenery. Born in New Zealand's picturesque South Island, he soon took a strong interest in the surrounding landscape's snow-capped mountains, lakes, native bush, and waterfalls.

As a young child, he enjoyed drawing scenes on paper and cardboard, often using colour pencils, crayons, and even felt-tip pens...
It wasn't until late 2002 that Nathanael decided to pursue a serious career as a landscape artist. Today he paints using high-permanence oils on stretched canvas or prepared board as preferred mediums...
| | |
| --- | --- |
| | Winter Morning, Minchins Road - from the 'My Canterbury' series |
He enjoys taking time out to explore and photograph mountain scenery both in N.Z. and overseas, and he has also painted in the United Kingdom, U.S.A. and Canada. Largely self-taught, Nathanael has a deep passion for the traditional styles of landscape painting and is greatly influenced by the local and international masters of realism and luminism.
| | |
| --- | --- |
| Many of his original works, featuring distant rugged peaks, glistening snows, and tranquil lakes can be found in private collections throughout the world. His collections of works include: The "Deep South" series, the "My Canterbury" series, the "My Kind of N.Z." series, the "Man & Nature" series, and more recently, the "Moonlight Adventure" series, the "Mighty Peaks" series, the "Guardian" series, and the contemporary "Landfall" series. | Storm in the Arthur Valley - from the 'Landfall' series |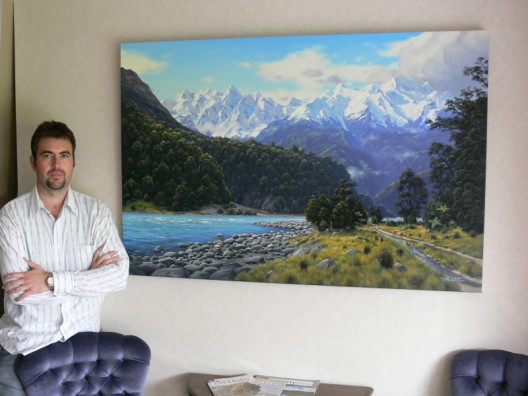 Nathanael with his painting "Whataroa", featuring the Whataroa River area in Westland, N.Z.



NEXT >